Hara Museum of Contemporary Art & AKICHI RECORDS Presents
銀幕と音楽の世界
The World of the Silver Screen with Music
このイベントは終了しました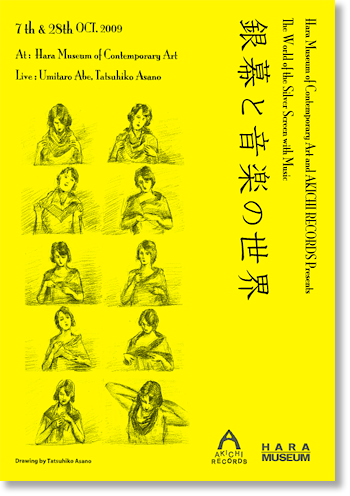 Part One
| | |
| --- | --- |
| [ Live ] | Tatsuhiko Asano (with support by Kunihiko Satake) |
| [ Date ] | October 7 (Wednesday), 18:30 open / 19:00 start / 20:30 close |

Part Two
| | |
| --- | --- |
| [ Live ] | Umitaro Abe |
| [ Date ] | October 28 (Wednesday) 18:30 open / 19:00 start / 20:30 close |
| | |
| --- | --- |
| [ Venue ] | The Hall at the Hara Museum of Contemporary Art |
| | 4-7-25 Kitashinagawa, Shinagawa-ku, Tokyo |
| [ Admission ] | General: 2,500 yen |
| | Members : 2,000 yen (includes museum admission) |
| | (and up to two accompanying persons) |
| [ Organized by ] | Hara Museum of Contemporary Art / AKICHI RECORDS |
| [ Planned by ] | Mao Yamazaki ( gm projects ) |
*For information and reservations
Hara Museum Tel : 03-3445-0669 / e-mail:
info@haramuseum.or.jp
For email enquiries, in addition to the above details, please write "The World of the Silver Screen with Music" in the subject line.
| | |
| --- | --- |
| [ Reservation details ] | (1) Name (2) Number of persons (3) Telephone number |
| | (4) Performance (Part 1 on 10/7or Part 2 on 10/28) |
1996年に「M.O.O.D/donut」から一人多重録音によるシングル『bonjour』でソロデビュー。その後任天堂のゲーム・ソフト「巨人のドシン1」のサウンドトラック、『ドシンの跡を追って』 を発表。2001年アレック・エンパイアの主宰する英国のレーベルGeist から初のフルアルバム『Genny Haniver』をリリース。 2008年、待望の2ndアルバム『Spacewatch』をAKICHI RECORDSよりリリース。
In 1996, he made his solo debut with the single "bonjour," created in a one-man multi-track recording session and issued by M.O.O.D/donut. In 2000, he released the soundtrack entitled "In the Wake of Doshin, the GIANT" for the Nintendo game software Doshin the Giant I. In 2001, he released his first album "GENNY HANIVER" on the British record label Geist. In 2008, he released his second album "Spacewatch" on the Japanese AKICHI RECORDS label.
→ V.A. / Recitals ( Tatsuhiko Asano )
→ www.myspace.com/asanotatsuhiko
→ Tatsuhiko Asano / official site
1978年生まれ。音楽家、作曲家。自作をピアノ、ヴァイオリン、パンデイロなどで演奏する。2007年に1stアルバム『パリ・フィーユ・デュ・カルヴェール通り6番地』を、2008年に2ndアルバム『SOUNDTRACK FOR D-BROS』を発表。最近では蜷川幸雄演出のシェイクスピア作品で音楽を手がけ、2009年には映画『ホノカアボーイ』に楽曲を提供するなど、活動の幅を広げている。
Born in 1978, he is a musician and composer who plays his own compositions on the piano, violin, pandeiro and other instruments. He released his first album "6, Rue des Filles du Calvaire, Paris" in 2007 and his second album "SOUNDTRACK FOR D-BROS" in 2008. In recent years, he has broadened his repertoire by writing the music for Yukio Ninagawa's staging of the Shakespeare's "King Lear", "Much Ado About Nothing" and "The Winter's Tale" and composing the music for the movie "Honokaa Boy" in 2009.
→ V.A. / Recitals ( Umitaro Abe )
→ THEATRE MUSICA
東京都品川区北品川4-7-25
交通案内:JR「品川駅」高輪口より徒歩15分/タクシー5分/都営バス「反96」系統「五反田駅」行、「御殿山」停留所下車、徒歩3分 ーお車でのご来場はご遠慮ください
Place: The Hall at the Hara Museum of Contemporary Art, 4-7-25, Kitashinagawa, Shinagawa-ku, Tokyo Directions : 5 min. by taxi or 15 min. on foot from JR Shinagawa station (Takanawa Exit) ; or from the same station, take the Tan No.96 bus, get off at the first stop (Gotenyama), and walk for 3 min. ーPlease note that parking space is not available.
→ 原美術館 / Hara Museum of Contemporary Art